When the sun begins to dip in the western sky… the wild turkeys cohabitating the grounds of the Acacia Creek Retirement Community look upward, pick their favorite roosting tree, and head for the top. Likewise, the human residents head for the top of Acacia Creek, where they not only find a place of comfort, safety, and rest but also… refreshment.
So reads a plaque hanging in Acacia Creek's resident-run bar, appropriately named the Turkey Roost. The bar is located on the top floor of the retirement community, which shares its campus with the Masonic Home at Union City. In nonpandemic times, the Turkey Roost opens every evening at 5 p.m. and closes at 6:15, providing a social hour and before-dinner drinks for Acacia Creek residents headed for the dining room just a few steps away. In those 75 minutes, its six barstools and handful of tables fill with neighbors and friends relaxing and connecting at the end of their day. "We're in business to provide a place for convivial people," says Roger Baird, better known as the bar czar. "Conviviality is the name of the game."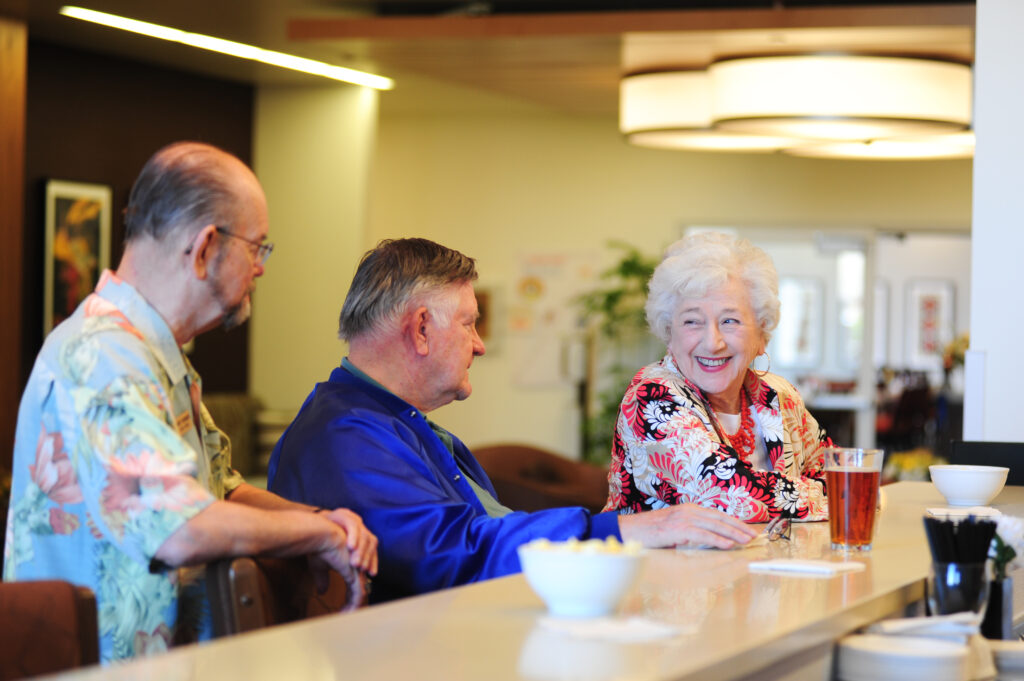 Community at $2.50 a Pour
Baird's been at the helm of the Turkey Roost since before it had a name, a license, or a staff. He and wife Donna moved into Acacia Creek in 2010, just a few months after the retirement community opened its doors. Although his background wasn't in bar management, he agreed to organize the resident-run pub, which at that point was just a great idea with a lengthy licensing process ahead of it. He got to work on a naming campaign (with the help of his grandkids) and recruited volunteer bartenders from among his Acacia Creek co-residents. At some point along the way, everyone started referring to him as the bar czar.
These days, Baird presides over 16 resident bartenders—including himself and two "associate bar czars"—who have gone through the appropriate training and work roughly one shift per week in teams of two. He regularly recruits new residents into the fold, as much for their benefit as the bar's. "It's a good place to meet people," he says. "You get to know everyone's name when they sign a chit for the drinks they buy."
As a break-even bar, the prices can't be beat. House wine is $2.50 a glass. A premium label costs $4. Anchor Steam is always on tap, along with seasonal choices and assorted bottled beers. The wine is on tap, too, in four steel kegs (currently: chardonnay, sauvignon blanc, cabernet sauvignon, and pinot noir), plus a selection in bottles. On the softer side, root beer's a popular choice: Residents order it to go, then head to dinner, where they request vanilla ice cream for DIY floats. Patrons can bring their own refreshments, too, including the hard stuff. One resident ponies up to the bar nightly with a bottle of his favorite Scotch to enjoy among neighbors.
Baird's drink of choice? Red wine. "For dinner," he says. "We don't drink on duty."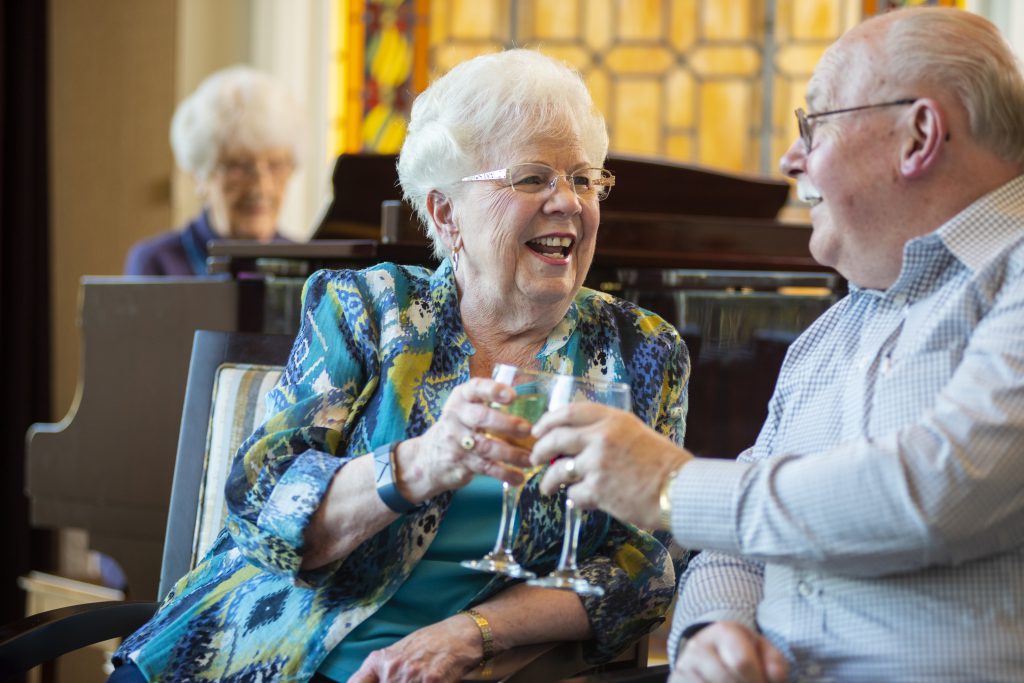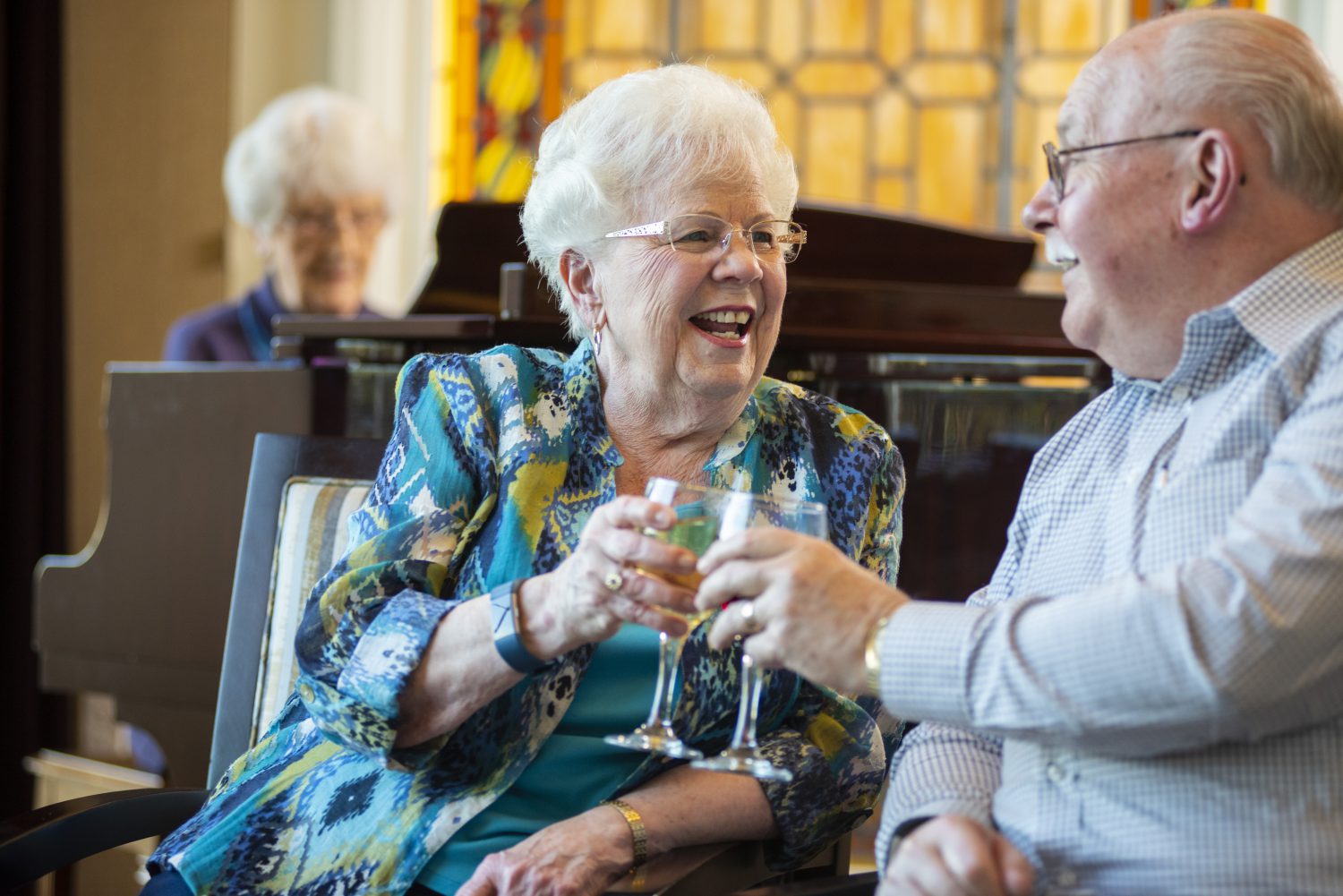 Where Everybody Knows Your Name
Of course, the best part about the Turkey Roost isn't the menu or even the prices. It's the opportunity for community. Acacia Creek champions successful aging as part of its Masterpiece Living program, and social interaction is a core aspect of that. The Turkey Roost draws residents out of their apartments and into new friendships. It's an extension of the fellowship that drew many of the residents to lodges and fraternal organizations in the first place.
As bar czar, this is Baird's favorite part, too. "What I like most is that I get to meet people," says Baird. "I get to know new residents. I get to know the bartenders that I recruit and just enjoy being with them."
In addition to happy hour, the Turkey Roost has become a favorite setting for Acacia Creek celebrations. On special Fridays, it hosts a TGIF party to use up its shelves of donated liquor, usually contributed by residents who've just moved into the community. At these events, guest bartenders serve a signature mixed drink for donations, which go to the employee-appreciation fund or another good cause. They've served gin and vodka martinis, margaritas, Manhattans—"I think that covers the waterfront," says Baird.
So far, at least. When the pandemic is over, and the Turkey Roost is once again open for business, Baird's got an idea for after-dinner drinks.
"We've got a big stash of after-dinner liqueurs," he says.
Acacia Creek Retirement Community inspires residents to live an active, meaningful life. Our mission as a senior community is to enrich the independence, well-being, and security of our residents through exceptional services and care based on Masonic values.

To learn more about Acacia Creek or our senior housing opportunities, contact us at WWW.ACACIACREEK.ORG/CONTACT