As a Certified Center for Successful Aging, Acacia Creek promotes a lifestyle of growth, social connections, purpose, and resilience. One unique aspect of our community is our engaged residents who introduce their passions to each other through new campus programs and events.
Resident Joan Wong introduced her passion of Taiko drumming to Acacia Creek in 2013 when she arranged a performance of her drumming group. Taiko drums originated in Japan, where they were used to ward away evil spirits and pest, mimic thunder during drought periods, and express thanks for bountiful harvests.
The drummers were so popular that they have returned every year since, delighting staff members and residents alike. At the end of each performance, the audience has a chance to participate. It is exhilarating to beat the big drums in rhythm with the group! The booming drums can be heard all over campus.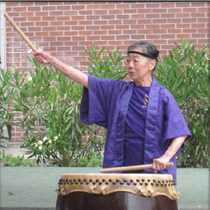 Joan says that drumming has been good for her physical and mental health. It has helped improve her timing, rhythm, and balance. "You have to memorize everything, so it's great exercise for the brain," she explains. The performances leave her feeling exuberant!
The drumming group's camaraderie, with members of all ages, is also important to Joan. "We are like a family," she says. As she is the oldest drummer in the group, she sees herself as the matriarch. Playing Taiko drums brings a sense of oneness, harmony, and interdependence, not only with the drum but also with fellow drummers. Joan says, "Beating the drum is like the heartbeat of the mother."
If you're interested in participating in a new on-campus activity, there are lots of ways to share your talents. Check out this month's calendar.
– By Penny Vittoria, Successful Aging Coach